Poster made by King_Meeseeks
Release Date
July 3, 2017
Written By
Dare102102
TrueBlueLuke
Series Run
2016 (Pilot relased) - Present
Film Company
Bloodshot Productions

Firefight is a 2017 Action/Historical Fiction series directed and written by Dare102102, This will be his first series he will be filming after his first short Bloodtrails.
Plot
After a convoy was attacked, in which four U.S Contractors were killed, a unit of Marines are sent in to eliminate any extremist elements and help the Iraqi people stuck in the city of Fallujah.
Production
The concept of Firefight came to Dare102102 when he was watching documentaries about the war on terror. The Pilot episode was made in very little time. Using free models, the in-game studio recorder and Movie Maker, it was released on July 4th 2016. Writing and Set design started to keep the viewers updated. In September 2016, Firefight was delayed from a Fall release date to an unknown date due to set, software glitches and a busy schedule. After 5 months of waiting, Dare102102 decided to revive the project because of his new found time and software. The release date was July 4th, about more than a year after the Pilot released. Episode 2 was shortly followed up with a release date of August 15th 2017. Firefight is currently on a hiatus due to Dare's busy schedule.
Cast
| Actor | Role |
| --- | --- |
| Dare102102 | Corporal Aidan Cross |
| Hydrow | Corporal Lamar Rogers |
| StephenGaming1231 | Private First Class Jonathan Evans |
| iwanttodie11 | Lance Corporal Axel Alvarez |
| ifiction10 | Captain Hershel Dalton |
| TrueBlueLuke | "Nomad" |
| KayleeRL33 | Lieutenant Joanna North |
Seasons
Episode
Title
Description
Director
Release
0
Pilot
A Convoy is attacked by extremist while en route to a refugee camp.
Dare102102
July 3rd 2016
1
FNG
Evans lands in Iraq and is given a complimentary

tour of his new home before being debriefed on his first mission.

Dare102102
July 4th 2017
2
Vigilant Resolve
The Team raids a compound that is holding an arms dealer.
Dare102102
August 15th 2017
3
Broken
TBA
Dare102102
Fall/

Winter 2017

4
Unbound

TBA

Dare102102

TBA

5
Strike
Season Finale
Dare102102

TBA
Reception
Reception for Episode One received generally mixed reviews, on average received a 6.3/10 due to boring scenes and lack of animation.
| Reviews | Reviewers |
| --- | --- |
| This was pretty good, the concept and the scenes. There were some flaws in my opinion, being that some scenes felt a bit slow without too much to be engaging. The line up scene and the bed scene. Some additional animation could be useful to provide more detail. Sound effects were alright, but more could have been added for that additional detail, helping visualise the setting. Overall, it was good, but not perfect. 6/10 | chickkengoboom111 |
| It was good. Don't stress too much if you don't think it's perfect because no production is ever perfect. You'll progressively get better the more you experiment with different techniques. I would recommend that during scenes of comedy that you add an ambient/background music that reflect that( When the soldier found out about the new member being his gf and got put in his place, LOL). Also, consider adding more animations during moments such as waking up from being a sleep. Furthermore, and this part isn't mandatory, but you can sometimes show who's speaking just by zooming in closer on that character's face ( Exa: When the captain was handing out orders). This is obviously at your discretion, but it can save the amount of text you have to type. I think this series has a lot of potential and as long as you try to make sure each episode is better than the last, it'll do great :D. Keep it up! 6/10 | TheBackstopace122 |
| I remember when I saw this on the wiki like a few weeks before, It came out & I was genuinely hyped for this. I was disappointed a little, I expected it to be longer but hey better than nothing, I like the writing & the jokes they weren't great nor cheesy just about right I like how it wasn't that serious but wasn't all the way goofy & I like Captain Dalton I love that Doritos moment, So I give this episode 6.9/10 good job excited about this series. EDIT: You know what 7.1/10 | TroyEast |
AVERAGE RATING: 6.4/10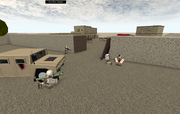 Trivia
The Pilot episode was released on the 4th of July (Youtube says July 3rd because it was uploaded around midnight)
The series has been in "Development Hell" going through 3 film companies, 2 of which are now defunct.
Originally, Episode 1 and 2 were supposed to be a single episode. The episode was split due to running time.
Episode 1 was released July 4th, exactly a year when the Pilot Episode was released
Quality has changed drastically as compared to the Pilot to the Teaser Trailer and Episode 1, this is due to the many changes in software over time and construction of a new set.
The main characters appear in Jackiepwners' Squad 41, This is confirmed to be non-canon by both Dare102102 and Jackiepwners.
Episode 3 will be the first time Dare102102 will be using the animation plugin.
Gallery