TrueBlueLuke, Bloodshot Productions Writer and True Blue Studios Director.
Upcoming Projects
Papers is an upcoming dialogued 2018 Drama/Comedy Series directed and written by Dare102102 and TrueBlueLuke.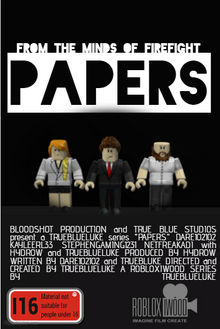 Potential Projects
Foxtrot (Crime Film/Thriller)
Expediency Point (Comedy/Crime Film)
The Juggernaut (Action/War/Historical Fiction)
Broken Interfaces (Science Fiction/Comedy)
Hire
Hello! I am currently looking for work other than my series and if you want a script or script-proofreading, I'm sure I can help. Just post up on my message wall and I'll get back to you as soon as possible.